Scope:
User experience research, collaborative brainstorming, mock ups, user maps, user scenarios, prototype testing and implementation planning.
Result:
A community minded concept that connects with an expansive youth demographic to foster a brighter financial future for current and upcoming generations.
Sponsor: OpenIDEO Financial Empowerment Challenge, Co-Op Financial Services, Mastercard
Role: Project Owner, Service Designer, Project Manager
Sector: Social Service Design
Industry: Finance
Frame
The problem is broad. It strikes a a universal chord. We all need money to survive and thrive on this planet. It is at the core of our basic needs. However, many people around the world find themselves lacking the necessary education and support to build financial stability. The goal of this project is to develop a design solution that will tap the power of communities to extend the reach of financial education, resources and support, ultimately leading to a brighter financial future for everyone. "How might we use the power of communities to financially empower those who need it most?"
Inspired by another contributor's research on the Awesomeness of Credit Unions, I was reminded of a story I had heard of an awesome credit union in my home community. Chaco Credit Union is a bright spot in Ohio, an example of a credit union that puts its mission of "people helping people" into action through education programs and community-oriented services. How can their success be distilled, expanded, or channeled to inform a global solution?
With the kind cooperation of Chaco Credit Union, I began my research contribution with a series of SME interviews with four Chaco leaders. Over the course of the meetings, four main themes began to surface:
Empowerment, specifically how Chaco empowers the community through investments and a member-run business model.
Programs & Services, for example, two education initiatives for teens and adults, a new budgeting app and second chance checking.
Collaboration with other community partners such as schools, churches and shelters.
Challenges they face in reaching the community, including lack of motivation to change, lack of volunteers and lack of interest.
The idea for a youth campaign came about when Chaco Credit Union Market Manager, Mitch Vocke, mentioned "Rock the Vote" as an example of a successful movement that got young people motivated and interested in a subject they were previously not engaging with. The concept is rooted in the idea that by tapping into students, we can potentially change the stigma around money-talk, build a generation of financially responsible adults and get people excited to learn how to take control of their financial health.
Over the course of the first month, after the general idea was presented on the open forum interested contributors began to gravitate the idea. Energy began to build around the idea and the concept began to grow and expand rapidly. Brainstorming in the form of online comments and suggestions led to the development of specific structures, engagement tactics and prototypes, including a quick loop of feedback between the virtual team and a high school classroom.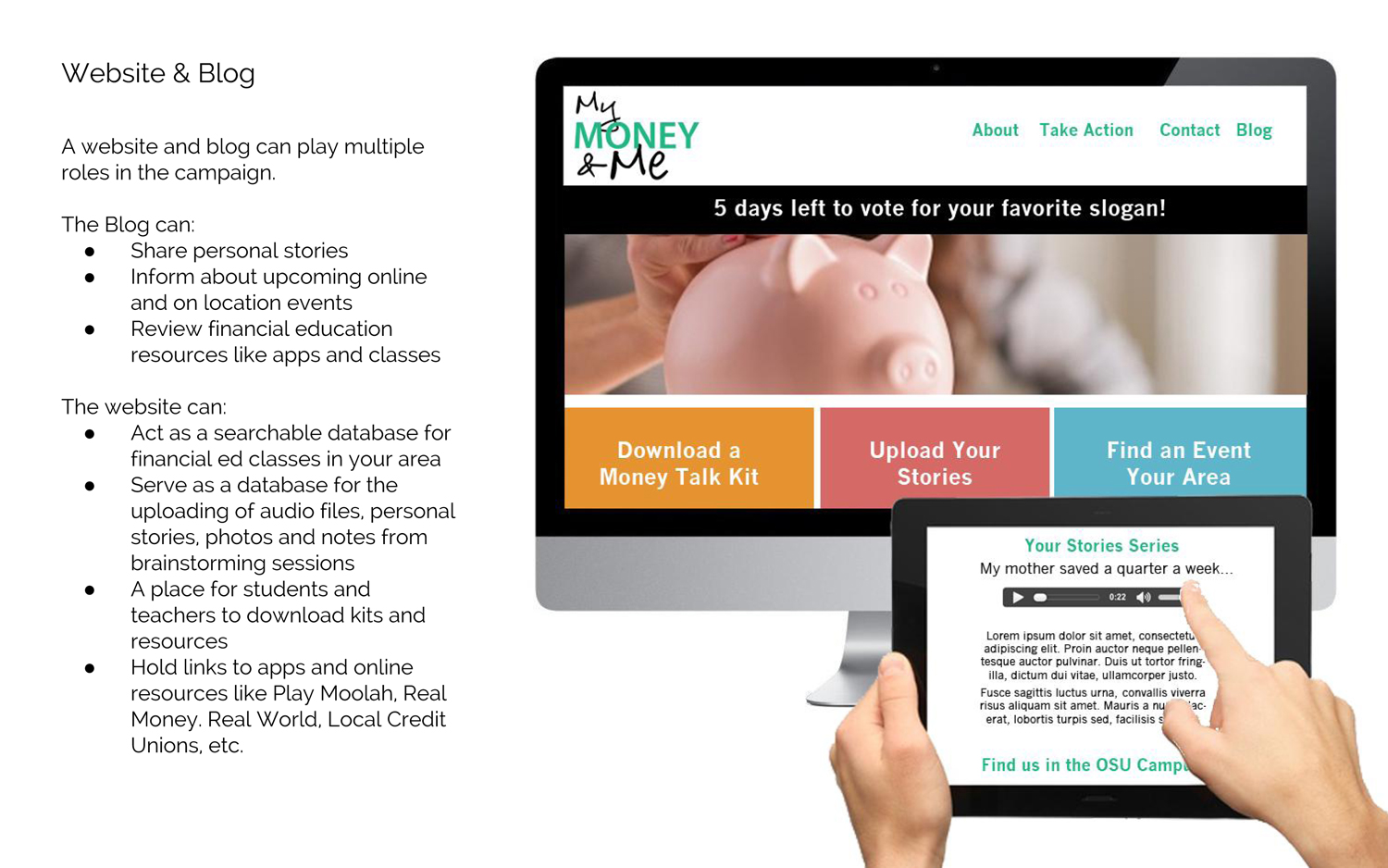 With a test group in place, I used the teams ideas to construct a prototype for a conversation starter kit called "Money Talk". The kit was designed to initiate conversations in a supervised classroom setting, collect information about youth psychographics, and test student willingness to participate outside of the classroom with online and take-home activities.
MONEY TALK KIT PROTOTYPE
A downloadable kit to use in high school and university classrooms, clubs, churches and community groups to start conversations about money, and gives young people the chance to get involved at the start of the campaign.
The kit includes:
Conversation starter questions to raise personal awareness of participants. The campaign team can use the student's feedback to inform the messaging platform.

A slogan contest gets students to directly contribute to campaign messaging. The winning idea can be selected as the official slogan.

An audio interview activity keeps the conversation going with family. The recordings let stories to be shared on the campaign blog and social media to start breaking down taboos and spread advice person to person.
View active user feedback here.
Measure campaign reach:
1. Social Media pages (Who is signed up, reading, reposting, liking, what are the comments? etc.)
2. Web site analytics (how many audio recordings are being sent in, how many signed up for blog, how many participants in contests, etc.)
3. Audio recordings (who are they interviewing? are families being engaged?)
Measure impact on financial literacy:
1. Track referrals to local financial literacy programs
2. Partner with other programs and gather information on the results of our referrals (for example, Financial Peace measures money saved and debts paid...how many of those dollars are from our referrals?)
3. Anonymous online surveys (For example, intermittently collect our member's credit scores, and personal debt, compare them to national averages for our target audience and track progress overtime.)
As the campaign has grown into a concept with many moving parts, it has become necessary to map out a rough plan for how projects could be implemented once funding is established and testing phases are complete. The team has found many possible avenues for sustained engagement.